EasyCHART™ Portable Whiteboard
Description
Size
: W - 600mm x H - 800mm/sheet
Packing
: 24 sheets / roll in case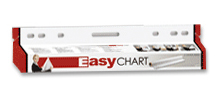 EasyCHART™ has the basic functions of an ordinary whiteboard. EasyCHART™ protable whiteboard offers a new innovation that innovatively changes posting methods. It makes everrything easy...Glue ! Nails ! & Stands Out ! As you can write on EasyCHART™ repeatedly instead of traditional whiteboard. Also, it can be used as a projection screen. At the same time, it is most innovative feature posting on any surfaces. Brings us unprcedented convenience for everyday applications.
The incredible features of EasyCHART™ :
(i)
Portable Whiteboard
(ii)
Flipchart
(iii)
Metaplan
(iv)
Pinboard
(v)
Projection screen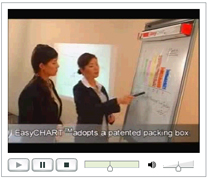 Play EasyCHART Demo Video - 3min50s
The special features of EasyCHART™ :
(1) It can stick on all smooth surfaces without glue or any adhesive.
(2) You don't need any stands or fixed wall for presentation.
(3) You can easily roll up the feather-light sheets and pack into your bag.
(4) It can be peeled off & reattached wherever you like and without leaving
a trace of adhesive.
(5) Any kinds of flat paper can be attached on EasyCHART.